Join the ranks of the financially free.
We've made it dead simple for you to track your assets and liabilities. Join for free in under a minute.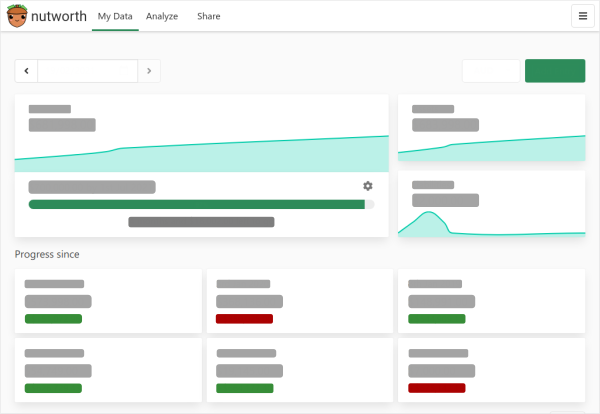 Track your holdings
Add your assets to nutworth. This could be your home, your car, your stock portfolio - whatever you feel makes up your overall net worth. We support holdings in over 300 currencies and cryptocurrencies making data entry a breeze.
Add debts if you have any. This could be a student loan, a mortgage, a credit card. Get everything on a single page and stay on top of your finances.
We'll remember what you told us and show you your overall position. Repeat this a few times and you'll see your financial journey take shape.
Monitor your progress
Gain insight into your financial position and how it's changed over the months and years. Our analytics tools will take the information you've given us, break it down by asset class and let you know key figures.
Set goals, see what you need to do to meet them. Keep track of your progress towards them every time you add an entry and stay on target.
See how fast different holdings of yours are growing - or spot the ones holding you back. With nutworth, you get easy insight into the rate of change of your holdings, enabling you to make better financial decisions. Without good data, we are blind.
Chart your future
We've put a tonne of effort into creating an advanced financial simulator that we haven't seen in any other product to date. Add estimated rates of returns, monthly savings, offset accounts and more to your holdings. We'll take that information and then show you what that would mean for the years to come.
But it doesn't stop there - experiment with your financial future with our advanced scenario tool. Model things like putting your children through school, selling a house or drawing down on your stocks over a period of years. Make it as simple or as complicated as you like and see how it will change your projected future holdings.
Too complicated? We also have automatic analysis available which will do short-term projections with no extra input.
Bring your own data
Take it away freely, whenever you like.
If you've already started tracking your net worth, we'd love for you to give us a try. A lot of us have been trying to track this information in a spreadsheet, which only works up to a point.
We have a powerful xlsx importer which will take your existing spreadsheet and pull it into nutworth. Visualise your data and try out our simulator.
We strongly believe that you own your own data which is why you can export your data just as easily with a click at any time. You can also freely delete your account at any time with no protest from us.
Secure and private
Your information is safe with us.
We appreciate the need for privacy when dealing with your personal finances. We minimise the amount of personal information that we request from you, only requiring an email address for account management and reminders. Should you upgrade to our pro plan, your billing information will stay with our third party payment processor and will never be stored together with your nutworth account. Passwords are securely hashed and stored isolated from all other data.
Get started for free
We offer a generous free plan. For additional storage and sharing features, you can choose to upgrade to our pro plan.
Free
Up to 100 Entries
8 Categories
Multi-Currency Support
Crypto Support
XLSX Export in USD
XLSX Import
-
Free for life
Month to Month
Unlimited Entries
Unlimited Categories
Multi-Currency Support
Crypto Support
XLSX Export
XLSX Import
Sharing Features
A low amount, paid monthly
Annual
Unlimited Entries
Unlimited Categories
Multi-Currency Support
Crypto Support
XLSX Export
XLSX Import
Sharing Features
Save 40% over monthly
Lifetime
Unlimited Entries
Unlimited Categories
Multi-Currency Support
Crypto Support
XLSX Export
XLSX Import
Sharing Features
One-time payment